Today, home prices are appreciating. When we hear prices are going up, it's normal to think a home will cost more as the trend continues. The way the housing market is positioned today, however, low mortgage rates are actually making homes more affordable, even as prices rise. Here's why.
According to the Mortgage Monitor Report from Black Knight:
"While home prices have risen for 97 consecutive months, July's record-low mortgage rates have made purchasing the average-priced home the most affordable it's been since 2016."
How is that possible?
Black Knight continues to explain:
"As of mid-July, it required 19.8% of the median monthly income to make the mortgage payment on the average-priced home purchase, assuming a 20% down payment and a 30-year mortgage. That was more than 5% below the average of 25% from 1995-2003.

This means it currently requires a $1,071 monthly payment to purchase the average-priced home, which is down 6% from the same time last year, despite the average home increasing in value by more than $12,000 during that same time period.

In fact, buying power is now up 10% year-over-year, meaning the average home buyer can afford nearly $32,000 more home than they could at the same time last year, while keeping their monthly payment the same."
This is great news for the many buyers who were unable to purchase last year, or earlier in the spring due to the slowdown from the pandemic. By waiting a little longer, they can now afford 10% more home than they could have a year ago while keeping their monthly mortgage payment unchanged.
With mortgage rates hitting all-time lows eight times this year, it's now less expensive to borrow money, making homes significantly more affordable over the lifetime of your loan. Mark Fleming, Chief Economist at First American, shares what low mortgage rates mean for affordability:
"In July, house-buying power got a big boost as the 30-year, fixed mortgage rate made history by moving below three percent. That drop in the mortgage rate from 3.23 percent in May to 2.98 percent in July increased house-buying power by nearly $15,000."
The map below shows the last time homes were this affordable by state: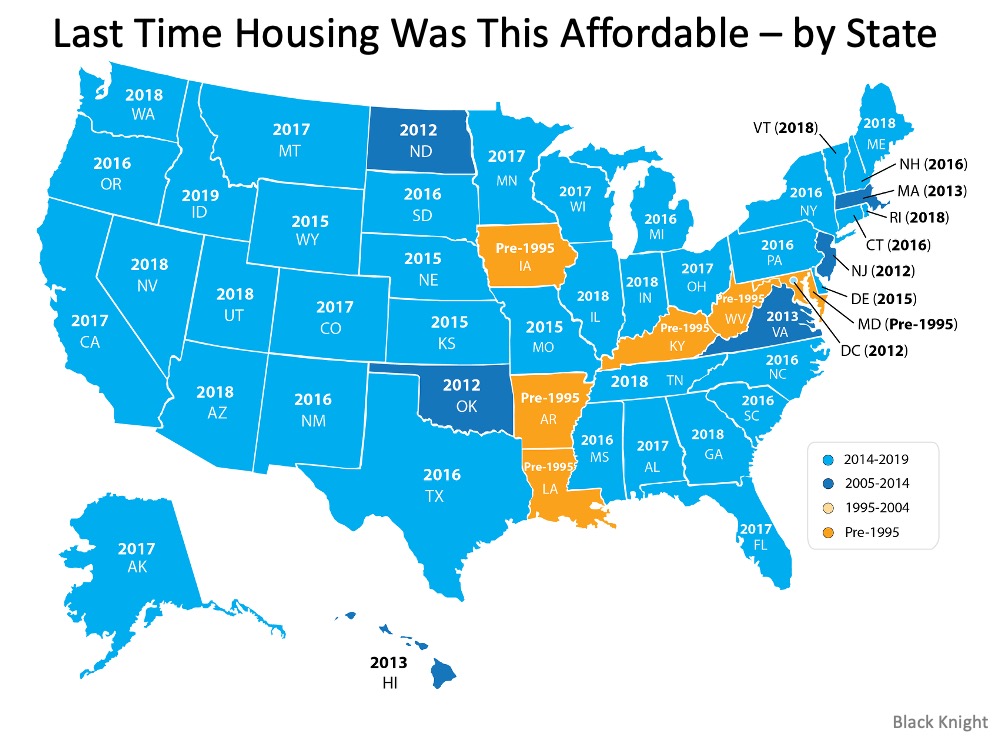 In six states – Arkansas, Iowa, Kentucky, Louisiana, Maryland, and West Virginia – homes have not been this affordable in more than 25 years.
Bottom Line
If you're thinking of making a move, now is a great time to take advantage of the affordability that comes with such low mortgage rates. Whether you're thinking of purchasing your first home or moving into a new one and securing a significantly lower mortgage rate than you may have on your current house, let's connect today to determine your next steps in the process.